In the year of the Olympic Games 2016, MAS is organizing «Powersim MAS Olympic Games» to remember that it is important to train not only the body, but also the brain!
What Is This Competition About?
Every week, on MAS Consulting Blog (http://b.mas-co.it/) you will find an interesting problem to be solved with Powersim Software. Send your solution or your developed model directly via mail to this address: powersim.games@mas-co.it. In this way you can participate to the contest and you can receive a free evaluation of your work by Powersim experts, if desired.
What can You win?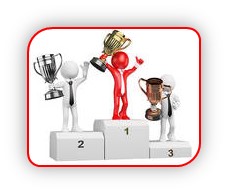 Taking part to this competition will give you the possibility to stake your Powersim skills, but also to win an official Cup and a free participation to a certified Powersim Advanced Course in the stunning setting of Lake of Como in Italy!
                             What Are You Waiting For?
All you need to do in order to participate to this competition is to send your credentials (name, surname, nickname to be visualized in the ranking) to powersim.games@mas-co.it and you will be immediately registered as an official participant!
The game will start on 19th April, with the publication of the first exercise!
We are ready to nominate the Powersim Best Developer 2016…. and you, are you ready to take the challenge?