Time goes fast….next Tuesday is the official start of #PowersimMASOlympicGames!!
Do not lose the possibility of winning a free participation to a certified Powersim Advanced Course in the stunning setting of Lake of Como in Italy!
Some anticipations about the first exercise…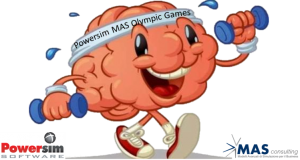 It is a little "brain-teaser";
It is though appositely for your "warming-up": it could seem easy, but… be careful!;
The topic is……….to be discovered soon!
Remember to register yourself by sending us your credential (name – surname – nickname of participation) to the following mail address: powersim.games@mas-co.it .